Employees' health should be the highest priority in any workplace. Arthritis, a common condition among workers, can significantly impact productivity, hence it is crucial to invest in the best office chairs for arthritis sufferers to enhance comfort. That includes those whom work from home – it's worth investing in your own wellbeing!
While most ergonomic office chairs can be suitable, it's important to choose the most comfortable office chair for arthritis that caters to the specific needs of the arthritis sufferer. This guide will shed light on arthritis, its causes, and more importantly, the top three office chairs that are tailored for arthritis sufferers.
Tip: Use the Article Contents to quickly view the Sections of this article.
TOC
Understanding Arthritis
Arthritis is an ailment characterized by inflammation of joints, potentially affecting one or more joints. The most prevalent types of Arthritis are Rheumatoid Arthritis and Osteoarthritis. It is commonly associated with joint pain and stiffness, which can worsen with age. The fundamental cause for this pain is the wear and tear of joints, significantly affecting the progression of this disease.
Arthritis is not restricted to a specific gender, and it can affect both males and females. Those suffering from chronic arthritis pain may find it challenging to perform daily activities like climbing stairs or walking. In some cases, permanent changes in the joints can further exacerbate the condition.
Arthritis can affect different areas of the body, so it's important to choose a chair that best supports your arthritic issue.
Causes of Arthritis
Several factors can cause Arthritis, and other than the aging process (wear & tear) the exact cause is still unknown. The gradual deterioration of the cartilage between joints is considered a common cause of Arthritis.
As the cartilage deteriorates, bones rub against each other, leading to inflammation in joints which eventually results in Arthritis.
Arthritis can also stem from an autoimmune disease where your immune response starts attacking body tissues, such as the cartilage tissue. Any injury to your joints can exacerbate this condition, making it crucial to have a comfortable seating surface for arthritis sufferers.
Our Top Choice of Office Chair for Arthritis
After extensive research and comparison, we've shortlisted the top three office chairs that offer the best support and comfort for arthritis sufferers. We delve into their unique features and benefits further down, but if you need speed, our pick is given below….
We opted for the Herman Miller Embody Ergonomic Chair.
Why?
It is a top of the range, state of the art and is a real fine looking chair. Its made impeccably, and has all the adjustment features perfect for a sufferer of arthritis, maybe with the exception of those with 'C Spine' arthritic neck issues (Cervical Spondylosis). For those with that ailment, either of the other two of our top 3 options would suffice, with the Steelcase Gesture getting the nod if budget was not too much of a concern.
Best Office Chair for Arthritis: Top Three Choices
After understanding what Arthritis is and what causes it, let's delve into the heart of the matter, our top three office chairs picks for arthritis sufferers.
1. Oline ErgoPro – Great All-round Entry Level Chair
The ErgoPro by Oline Chair tops our list as the best office chair for arthritis. This chair is equipped with a breathable mesh back and adjustable lumbar support, providing support to the lower spine. Thus, it reduces pressure on your hip joint and lower back, making it an ideal office chair for hip arthritis.
It has a great specification for its price, with everything you would expect for modern ergonomic chair putting it right up on there our list. As long as the chair has ergonomic adjustment for the limbs joints where you experience arthritis pain, then it'll be a great selection for you.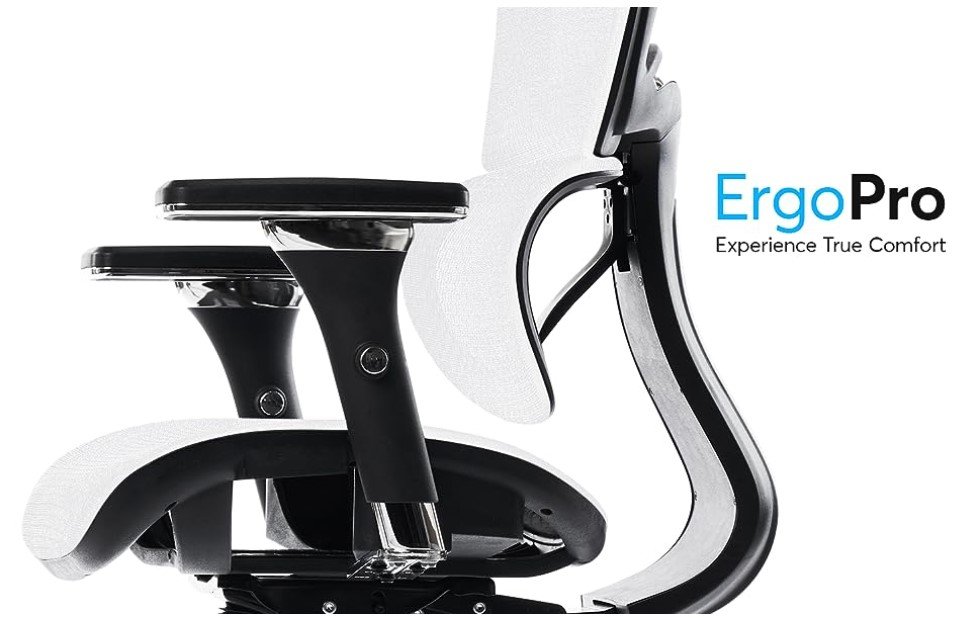 It comes in a variety of colors to suit most tastes – Black, Burgundy, Grey, Navy Blue and White, and is rated for users up to 330lbs in weight.
2. Steelcase Gesture Ergonomic Chair – Well Engin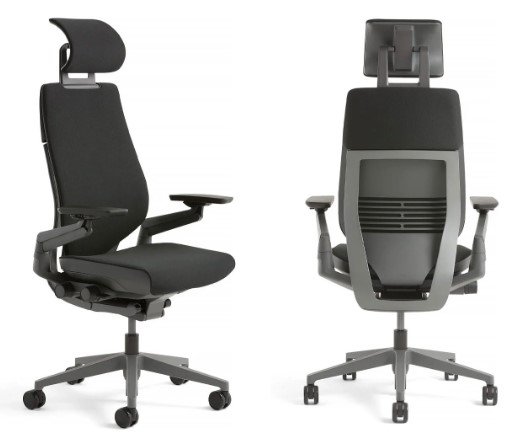 The Steelcase Gesture Ergonomic Chair is engineered to adapt to your postures, ensuring there is no pressure on your joints. With adjustable height, you can easily align the chair so that your knees are parallel to the floor, preventing any wear and tear.
Make no mistake this is a premium brand that offers build quality second to none. Their proprietary seat cushions which are designed to leverage air pockets that is built into the base. It molds to the body to reduce pressure that is the side effect of sitting for long periods.
The Gesture features Steelcases' 3D LiveBack(TM) technology which is designed to mimic the natural movements of your spine by 'flexing' as you change postures.
It is rated to support those that way up to 400lb!
3. Herman Miller Embody Office Chair
The Herman Miller Embody Office Chair is a perfect choice for those who can afford a higher-end option. This chair adheres to all workplace ergonomics guidelines, maintaining better spine and back health, making it one of the most comfortable office chairs for arthritis sufferers.
Office chairs with back and Lumbar support which is a necessity for spinal arthritis patients as they eliminate pressure points and ensure a stress-free work experience.
Herman Miller are up there with Steelcase as market leaders who offer premium, well designed and quality made ergonomic chairs. This chair features the Embody Pixelated Support which conforms to your bodys' micro-movements.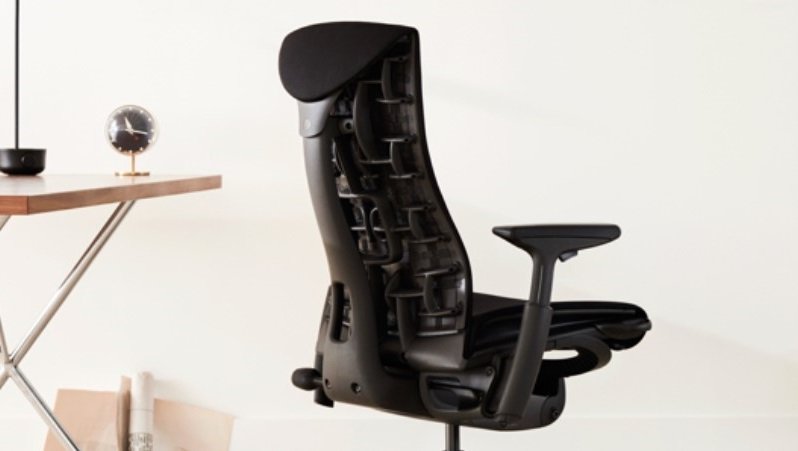 However, it's always better to choose the best office chair for arthritis that caters to your specific needs. Sadly, this example does not come with a head rest like the Herman Miller Aeron, where you can purchase an aftermarket add-on. Unfortunately, we are not aware of that option being available for the Embody chair.
The chair caters to those weighing up to 300lb, and is available is a great range of color options.
Frequently Asked Questions (FAQs)
Q. How can an Ergonomic Chair Benefit Arthritis Sufferers?
Arthritis can cause discomfort and stiffness in various joints of the body, making it difficult to maintain one position for prolonged periods. Ergonomic chairs offer several benefits to alleviate these issues:
Promoting Proper Posture: These chairs are designed to support the natural curvature of the spine, encouraging a straight and relaxed upper body position.
Reducing Joint Stress: With adjustable features, ergonomic chairs can be tailored to provide optimal support, reducing strain on joints like the wrists, knees, and neck.
Encouraging Mobility: Many ergonomic chairs come with swivel and roll features, promoting easy movements and preventing stiffness from prolonged static positions.
Q. What Features Should I Look for in an Ergonomic Chair?
When selecting an ergonomic chair, consider the following features to ensure it meets your specific needs:
Adjustability: The chair should have customizable features, including seat height, seat tilt, backrest height and tilt, and armrest positions.
Lumbar Support: A chair that mimics the natural curve of your lower back can help maintain a neutral sitting posture.
Arm Support: Adjustable armrests can ensure that your upper and lower arms form a 90-degree angle, keeping your wrists straight and fingers relaxed.
Size: The chair should fit your body size. There should be a one-inch gap between the edge of the seat and the back of your knees, and the backrest should be wide enough for your back.
Q. Should I Opt for an Ergonomic Chair with a Headrest?
If you tend to experience neck and shoulder strain, choosing an ergonomic chair with a headrest can provide additional support and comfort.
Q. Can an Ergonomic Keyboard and Mouse Complement the Benefits of an Ergonomic Chair?
Absolutely. An ergonomic keyboard and mouse are designed to keep your hands and forearms in a more neutral position, reducing strain and promoting comfort. This can complement the benefits provided by an ergonomic chair, especially for those with arthritis.
Arthritis sufferers can significantly benefit from the use of ergonomic chairs and other ergonomic equipment in the workplace. By promoting proper posture, reducing joint stress, and encouraging regular movement, these tools can help manage arthritis symptoms and enhance comfort and productivity at work.
Additional Information: The Arthritis Foundation provides free information and resources to help employers accommodate employees with arthritis. Learn more at Arthritis Foundation.
To Wrap up…
Arthritis can significantly impact an individual's productivity at work. Hence, investing in the best office chair for arthritis is essential to ensure comfort and well-being. The Oline ErgoPro ergonomic chair, Steelcase Gesture Ergonomic Chair, and Herman Miller Embody Office Chair stand out for their unique features and benefits.
However, always remember to choose a chair that caters to your specific needs and provides the comfort you need to work effectively. Each of our three options should work for you, but if you are not sure, like with all things concerning your health and wellbeing, consult with healthcare professionals and maybe the chair manufacturers – so you get the right one for you.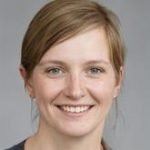 Amelia & Theo – Co-owners of ThinkHomeOffice.com
We have professional backgrounds in Software Testing and Business Analysis, both with extensive experience of working for commercial enterprises and as a freelancers. We toggle between working from corporate premises and our own home offices. We have a passion for home working, and for using equipment that is ergonomically functional, well designed and elegant.