Sitting down for long periods of time invites significant health issues, especially if you're sitting on a bad chair. However, switching chairs isn't going solve all your problems, no matter how nice that new chair is and how ergonomically potent it may be.
It's just not healthy to stay sat down for the working day, you need to stand – these Desk Converters are a great idea to help you do just that, and stay productive!
FAQ's
Should I get a Desk That You Can Both Sit or Stand at?
At the end of the day, you're just sitting way too much, racing against deadlines and forgetting the fact that stretching out your legs or standing up, moving around every few hours of work are actually pretty necessary things in order to preserve good spine alignment, posture and a healthy body. That's where standing desks or standing workstations come in.
Should I Get a Standing Desk?
Standing desks are basically like what it says on the tin, they are desks designed to give you a place to rest your wrists while standing, to let your work with the utmost flexibility to stand and move around freely. Sounds good huh? However, they aren't all magic, some are definitely better than others and some are presumably worse, and even if they do meet the requirements of quality and functionality, they still have to pass the final eye test. Not all desks are created equal, and even more so when we get to specific subcategories like standing desks and workstations.
Now I won't claim to be an expert on desks, however I've used some standing desks and did a lot of research before writing this article. It is one that contains everything you need to know about working with Standing Desks, and about the Chiropractic background which backs it up.
Should I Get an Adjustable Standing Desk?
Well, yes! But… Why is that you ask… (let's assume you will ask)? Because if you suddenly want to sit down, what are you going to do? Move your whole messy dump of documents and paperwork and cool gadgets to another desk that more suits for your desired desk height?
No, that would be a nightmare in itself and while I won't reveal the names, some standing desks don't offer this height adjustment ability, which is a minimum requirement, and turn themselves into unfavourable products.
As described in the linked article above, it's very important you get an adjustable model, otherwise it can't be a true ergonomic option
With that in mind, these selections of mine, being ergonomically engineered to the max as they are (or so I say, which is as legit as it gets), you won't have to care about maintaining the same productivity level while still staying in good health after getting them. In the interests of variety I've added a real range of options, from the basic to the motorized!
This conversion kit by Uncaged Ergonomics is a very flexible and good quality converter. This model has a motorized lift mechanism and when placed upon another existing desk turns turn the whole thing into a standing or sitting desk to it's owner's satisfaction, however the gimmick here – what makes it different in my opinion, is how at the flick of a switch – it can utilise 4 height memory settings. So the user, or users, can save their height preferences. it's designed to be compact with the surface area about right for this sized unit, it's intelligently crafted and well made.
If you are looking for an extra-high monitor riser, then look no further than this dual workstation from Vivo. This company never ceases to impress with their designs – this time around, they created a desk riser that will not only fit your monitor but another monitor or a laptop as well.
The maximum height that this riser can reach is about 20", which is more than enough to have you working while standing up without having to worry about problems with posture. Reviewers have said that this desk riser is very easy to assemble and it has an additional keyboard tray that can also be raised to a certain level.
When you want to raise the monitors or keyboard, you can do that easily with the new simple touch height locking mechanism. In case the mechanism starts to malfunction after some time, you do not need to worry because you are covered with a 3-year manufacturer warranty that will help you settle your problems easily and quickly.
The beauty of this desk converter is in its fine details. Made from premium quality matte medium density wood, the converter has a nice smooth finish. Adding this converter to your desk will make it look so much better, giving you the will to work all day long. Also, this converter will make long work days seem shorter because you will not be tied to your desk chair.
You can easily raise the converter and work while standing up, which is made possible by the high-quality gas spring. The maximum height that it can reach is about 20", while the surface of the converter is about 32". That is more than enough for you to be able to surround yourself with everything that you need.
In case you face any problems with the converter, a lifetime warranty has you covered. You will get the converter fixed or replaced in no time!
You can rarely find desk converters made from bamboo, so this desk converter from Zhu Chuang is a real gem. Bamboo is a great eco-friendly material that grown quite fast, it is very smooth, durable, and of higher quality than other types of wood and plastic. So, investing in a bamboo desk converter might be a very smart idea. Not only is the material smooth to the touch, but it is also waterproof, mildew-proof, and easy to clean.
This desk converter can be adjusted to any height that you want, with the highest option being 15.4". Thanks to the gas spring adjustment system, the transition is very easy and effortless. You can use it directly from the box as it does not require any assembling whatsoever. It is stable, smooth, and it will not damage the surface underneath it.
If you are concerned about your health and you think you spend too much time sitting at your desk, then you should try out this elite standing desk. It will not only take care of your health, but it will also make working a lot more fun. The size of it is such that it can hold two monitors at once, the height can easily be adjusted and there are about 200 positions in which you can set this desk converter.
The maximum height that it can reach is about 16.9", so it can fit people that are anywhere from 5′ to 6'3 tall. You do not have to worry about assembling it as it comes preassembled and ready to use right out of the box. In case it arrives with some malfunctions or it starts to malfunction after some time, there is a 100% guarantee that you will get your money back after contacting the company.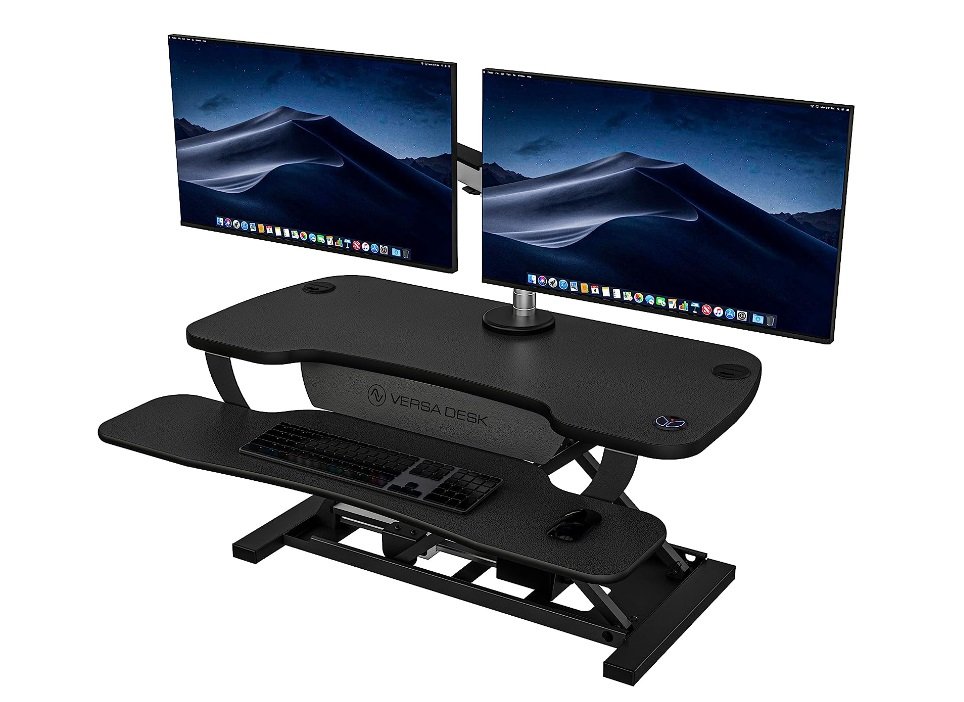 Versadesk created this amazing electric adjustable computer riser with robustness and powers in mind. The riser looks simple and elegant, the structure is impeccable and it can hold up to two monitors at a time. For those who are looking for a multi-task workstation, this could be a great fit. Adjusting the height is quite easy thanks to the 'UP' / 'DOWN' 7 'LOCK' buttons to set it at any level.
The maximum height that the computer riser can reach is 20", and it can hold up to a whopping 80 lbs. It is made from strong steel, the feet cannot damage the surface underneath them, while the corners of the tabletop are rubberized for additional protection. The product has been reviewed by teachers, students, IT engineers, and all types of office professionals – and they all loved it!
To Wrap Up…
Any of the options presented to you today will help you to work more healthily – some are better than others being more robust, having motorized mechanisms or memory settings to adjust to predetermined heights. Though, really none of that is important! What is, is that you get stood up… working both sat down and stood up ideally.
These will help you do just that, at a price you'll be happy with – unless you're a Tech nerd like me and pay over the odds for something that has a button, and whiiirrrrrrrrs a lot!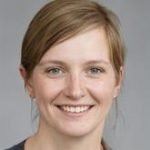 Amelia & Theo – Co-owners of ThinkHomeOffice.com
We have professional backgrounds in Software Testing and Business Analysis, both with extensive experience of working for commercial enterprises and as a freelancers. We toggle between working from corporate premises and our own home offices. We have a passion for home working, and for using equipment that is ergonomically functional, well designed and elegant.