When it comes to sitting in a chair for a long period of time, your comfort will become more of an issue the longer that you remain seated. A contributing factor to discomfort is often becoming too hot, mainly around your back and buttocks. These, of course, are the primary points of contact between the chair and your body.
Why Does My Chair Make me Sweat?
If we can assume you are sat in a cool environment and you find yourself getting too hot whilst seated in your office chair, then you need to look at what you are wearing, are you overdressed?Maybe more relevant is the chair you are sat in, is it well padded/ insulated? Does it permit ventilation?
Lets break down those two points…
Chair Type/ Material
Is your office chair made for comfort, is it even an office chair?
Some chairs are constructed from Leather, and are well padded with comfort in mind. If your chair is like this, then it's probably the primary reason why you find it is too hot. Chairs of this design are great to get you comfy and relaxed for an afternoon snooze, but not very conducive to work from.
In fact it can be made from several other 'warm' materials, not just leather, but I'm sure you can picture the kind of chair I mean.
They will wrap around your torso, not allowing air to circulate around you, building up heat. Yes, that snug feeling you get just before you nod off! When you are trying to work, you'll soon find it gets too warm, and makes you irritable.
All is not lost, read on to 'Ventilation'.
Ventilation
To remain cool and comfortable for the duration, you need a chair that allows air to circulate with the parts of your body in contact with the chair – your buttocks and back.
Most modern office chairs are constructed from a 'Mesh' material that is robust but allows air to flow freely around you. If you have one of these office chairs, then why are you here?
Let's assume you are still hot.
As stated above, ensure you are wearing clothes that are light, loose and like the chair, allow good air circulation.
If you are still hot, then check the cooling and ventilation of your home office or workspace environment.
How do I stop Sweating in My Office Chair?
If you don't have an office chair that is constructed using this contemporary Mesh material, then the options you have are:
A New 'Cool' Ergonomic Chair
Retire your current chair, to be used to 'nap' in after your large Sunday dinner, and seek to buy a new Office chair. Review this article here for the best Ergonomic Office chairs on the market. If you don't know, 'Ergonomic' office chairs are designed to adjust in many differing aspects to support the body properly – preventing neck, back and shoulder issues from extended use.
Breathable Lumbar Support
Look to buy a device to allow an 'air space' behind your back and the chairs backrest. These will allow you to retain your existing chair by being retro-fitted to the backrest. It will also add additional Lumbar support to your lower back. It won't prevent a warm bum though!
Cooling Gel Lumbar Support
Very similar to the above Lumbar Support, but contains a Cooling Gel pillow beneath a breathable cover.
Primarily designed for users that experience back pain, this item will offer great back support, whilst keeping you cooler.
To Wrap Up…
As discussed above there are options for you to consider. It mostly comes down to your existing chair. Is it worth keeping as an office chair? A new Ergonomic chair is optimally designed to be used for a long duration, to keep the user comfortable and cool.
If you simply can't part with your current chair, then consider retro fitting it with one of the lumbar options.
As stated, this article is written on the premise you can cool the room you are in, if that's not the case then look into ways to cool your environment before buying a chair, or any chair addition. It may also help to keep you awake, and focused on your work.
No more chair snoozes!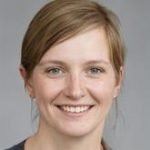 Amelia & Theo – Co-owners of ThinkHomeOffice.com
We have professional backgrounds in Software Testing and Business Analysis, both with extensive experience of working for commercial enterprises and as a freelancers. We toggle between working from corporate premises and our own home offices. We have a passion for home working, and for using equipment that is ergonomically functional, well designed and elegant.