If you are a big person, which inevitably means you are heavier, then you will need to make sure that your office chair is up to the task of supporting your weight, whilst still being ergonomically functional and comfortable. It must cater to your dimensions. We didn't want to issue this article as a 'best ergonomic chair for a f@t person' as it, well… just sounds wrong!
Chairs can come with a variety of features and options that can help make them more supportive, so you must select a chair that is ergonomic, comfortable and robust enough to last. Specifically if you class yourself as a big or large person.
Do you have a hard time finding the perfect office chair for your needs? If you are on the heavier side, it can be difficult to find the right one to meet the requirements stated above. But, don't worry!
We have put together this guide to assist you, with a review of some chairs and their features that will help you find the best chair for your needs, the ones we think are best. So if you are Big, or Tall, or 'Big and Tall', you can be better informed to get the right chair for you.
Get an Ergonomic Office Chair for a Bigger Person – Your Quick Top 10 Checklist
If, like me you fancy some quick snippets of information, or a 'tl;dr' then this list below should get you on track with things for you to query in your search for a good office chair.
Big Person, big chair checklist…
What Exactly is a bigger person – Am I even in that category, wouldn't most chairs suffice?
Why is buying an Ergonomic office chair important – An ergonomic chair is designed to incorporate a high degree of adjustment, so it can be manipulated to suit a persons dimensions. It will then prevent discomfort and undue fatigue for the user.
It's not just the chair that is important – Owning a great chair, but using desk that you can neither use, nor fit under just won't cut it!
Is the chair designed to cater for a users weight – Buying a chair that is not robust enough for a persons weight will most likely mean its functions will fail to work, maybe even resulting in a failure to a component.
Is the chair designed to cater for a users height – Having a really expensive ergonomic chair may be a bad buy, if its adjustment scale is exceeded by the persons height.
Is the chair designed to cater for a users waistline – Some chairs may simply be too narrow. wedging the user in. Great if you need to incentive for a weight loss program, not so good if you want a comfortable environment to work from.
Does the chair need to cater for any back, shoulder or neck conditions – If it truly is an ergonomic chair, then it most likely will be able aid existing physical conditions of the upper body and lower back. Though not all ergonomic office chairs come with headrests, lumbar support, etc.
Does the chair have the required mobility – Not a requirement for most perhaps, but some will need their chair to effortlessly glide across the floor from one workstation to another. Small caster wheels may not be good here.
Is the chair designed to allow airflow – Again, not something you would always think about, but a good office chair should allow airflow around your back, rear and lumbar regions. The best ergonomic office chairs are constructed from a 'mesh' material that allows the torso to remain cool by allowing air to circulate.
Get the best ergonomic chair that is aesthetically appealing – We want a chair that has a great specification, but it must also have design appeal. It must look good in your office, or your home office.
What Exactly is a Bigger Person
First of all, what is a bigger person? With things being relative, we are
all pretty small when compared with most NBA or NFL stars. We therefore need to
have a tool which could give us an idea, so below we've added a useful
calculator to give you your Body Mass Index (BMI).
Even then, this may not indicate if you are big, merely if you are in
relation to your height and age.
To give the tool some context, adults are considered to be overweight with a BMI of 25 to 29.9. The following BMI list shows the weight categories:
BMI Categories for Adults
Obesity is a BMI of 30 or above
Overweight is a BMI of 25 to 29.9
Healthy weight is a BMI of 18.5 to 24.9
Underweight is a BMI of less than 18.5
To provide further statistical context to what this means to all US adults:
Nearly 1 in 3 adults, 30.7% to be accurate, of all US adults are overweight.
Greater than 2 in 5 adults, that is exactly 42.4% of all US adults are obese.
Approximately 1 in 11 adults, precisely 9.2% of all US adults have severe obesity.
Statistics: Courtesy of the U.S. Department of Health and Human Services & NHAMES survey.
With the above BMI tool and associated metrics, we really hope we may have
helped you understand if you are 'big'. Like we said, it is relative, but for
the purpose of getting a suitable office chair its best to know your height and
weight.
Speaking plainly, we primarily need to know if you are just too heavy for certain
models, or if your limbs are too long to be within the chairs ergonomic range
of adjustment. The other factor, which will most likely link to your BMI, is
your body mass. You may be too broad for a chairs width or projection.
With the statistics given above being well publicized, most chair manufacturers will ensure their products are capable of being able to support the majority of the adult population. They will however only do so for the highest proportions. So, if you are in the 9.2%, or are very tall and very heavy; then your options may be reduced.
We'll shortcut that research into the best office chair for a big person for you!
Why is Buying an Ergonomic Office Chair Important
An ergonomic office chair is essential if you want the chair to fit perfectly to your body. We are all different, and having a chair that can be adjusted specifically to your needs and dimensions ensures comfort and reduces fatigue whilst in use.
You may get lucky with buying any limited, or non-ergonomic office chair that caters for a larger body size of course, but it could be a costly mistake if it just isn't comfortable.
It's Not Just the Chair That is Important
Like the title says, it just doesn't solely come down to having the correct ergonomic office chair. It's also about having the right desk.
Many desks are fixed. That is, they have fixed dimensions – their height, width and length are not able to be modified. It might not be prudent to buy an amazing ergonomic office chair, suited to a large person, if your desk does not allow you and your chair to fit beneath it!
There is a great range of electric height adjustable desks available on the market, they are designed for users that want the option to sit or stand. Though any decent quality office desk, say from Ikea, will have some degree of height adjustment.
Is the Chair Designed to Cater for a Users Weight
For most people, the best ergonomic office chairs would be good enough. But for those who are heavier, they need to be more careful in their choice of office chair.
It is important to remember that not all chairs are created equal. The weight of the person using it will have an impact on the quality of their experience with it.
Many heavy people find that the chairs designed for bigger people offer a better experience than other types of chairs. The chairs components are built more robustly; and the chair is tested to ensure it can handle a weight of 'X' pounds.
It is important when making a choice that you confirm the chairs specification, so you know what weight the chair has been built to take.
Is the Chair Designed to Cater for a Users Height
Your choice of a great ergonomic office chair must consider the distance range the chairs ergonomic adjustments extend to.
Primarily the chairs height adjustment. If the chair does not extend in height enough, you will never be able to sit in the optimum seated position. The chair must also have a high enough back to support the back and shoulders, to suit those with a taller torso.
Not all models have an extending seat base, though the base does not necessarily need to be as long as someone with very long thigh bones, it must support more than just their buttocks!
Should you opt for a model that incorporates a headrest, which we'd highly recommend, then ensure the headrest has adjustment – so you can manipulate it to suit you. This should ideally be with height and angle.
Is the Chair Designed to Cater for a Users Waistline
A lot of office chairs can be narrow, some manufacturers construct them that way in order to have them fit side by side for desk use. They will be designed with the average human frame in mind. The objective here is to verify the width of the seat base for any model you like.
Pay attention to chairs that have armrests, which we do recommend getting! An armrests design may differ greatly from purely functional, to fancy. Check that 'fancy' does not mean it cuts into the width of the chairs base.
Some chair manufacturers do make their products in a range of widths, Herman Miller for example. They have sizes A, B & C for their Aeron chair.
Does the Chair Need to Cater for any Back, Shoulder or Neck Conditions
The need to do your due diligence is even more important now, so what you buy helps to alleviate any condition you may have, not make it worse. Thankfully most of the best ergonomic office chairs do have the means to support the human frame, namely the lower back with Lumbar support.
They can also come with Split Back Rests, to aid upper back and shoulder issues. Support to the shoulders is also provided with chairs that have Adjustable Arm Rests, though choose wisely as some can be quite flimsy when applying weight through the arms.
Of course Neck support can be accommodated with a chair having an effective Head Rest.
There are even examples of chairs that incorporate Leg support, where the chair has the support embedded beneath the Seat Base, it can then be extended out to support the legs when required. This may come in handy for some users, but we believe it to be a bit of an unnecessary luxury and not conducive to someone that requires the chair to work from.
The above facilities will be common to a lot of ergonomic office chairs, but their functionality will – or should – have been tested by the manufacturer, to ensure they work under the load of the heavier user. At least to the weight limit they declare on the chairs specification.
Does the Chair Have the Required Mobility
Depending on the role of the user, there may be a requirement to have a chair that allows some movement, so not necessarily one with fixed legs, but a model that has Castors (small wheels).
Most modern office chairs do come with wheels, some larger than others. It may not seem important, but the best ergonomic office chairs come with casters of a higher quality, they are generally a little larger, allowing them to roll more freely over more surfaces.
If you find the perfect chair, but its Caster wheels aren't great, then be aware you can buy third-party ones. Some actually look quite cool, like they were made for a scooter.
Is the Chair Designed to Allow Airflow
The top ergonomic office chairs on the market come in a range of materials and finishes, from Leather to Nylon, and all things in-between. It essentially will come down to your taste as to what finish you want, but, please consider how comfortable it may be after sitting in it for prolonged periods of time.
Will it make you sweat?
Several leading manufacturers, in fact lots of them, use Nylon mesh. It is resilient to wear, contemporary looking but most importantly, it allows air flow to circulate around the user. If you work in an air conditioned space, then this may not be a big deal. If you don't, and its quite warm or humid, then you might be a sweaty mess in the wrong chair.
Get the Best Ergonomic Chair That is Aesthetically Appealing
We discussed 'taste' in the last section. Although it is important, aesthetics really should not overpower the requirement to get an office chair that primarily is functional. But, we are all a little bit vain – maybe! Or is that just me, doh! Joking aside, we all want to have nice things, and your office chair should be no no different.
The good news is most of them look great. They have a futuristic look. Especially ergonomic ones, as they have to be adjustable, which means they're built from several manoeuvrable pieces, making its overall appearance appear technical and contemporary.
These may not however, suit someone with a classic looking office or who has classic tastes. We will scour the market and see if there are any classic looking variations out there.
Our Top 'Big & Tall' Chair Selections
Well, if you're still with us, great! Thanks for reading our content. Like we said earlier, this article isn't designed to be a funnel for getting a reader to buy a chair; its for them to be informed and assisted. So this next section is our best picks, to assist you with getting the right chair.
We have considered all of the high-level requirements discussed for each chair, and will break out the relevant specification for each of them into this handy table. We have further added each chair individually, beneath the table. This is to showcase each chair with more on their features, and so you have better graphics for the chair and its dimensions.
DUOREST ALPHA DUAL-BACK Home Office – Ergonomic Office Chair

XChair XG-Wing Management Chair

XChair X4 Leather Executive Office Chair

300lbs – standard.

340lbs – with extended width base.




Nouhaus ErgoPRO Ergonomic Office Chair
Duorest Alpha Dual-Back Home Office Desk Chairs – Ergonomic Office Chair
Overview
The Alpha Dual-Back chair by Duorest is a rather unique design, featuring a full length split back which offers support to both the upper and lower back. This design is said to reduce the pressure on the back by 44lbs.
It has a great overall weight capacity of 300lbs.
The chair also comes in 4 variants, so you can choose the one which suits you – though we would opt against choosing the option without a headrest.
We chose to feature the Alpha model due to it having a mesh seat base, and a rather unusual, but eye-catching, white color.
Primary Features
Adjustable Split-Back support
Height adjustable Armrest
Adjustable Headrest
4 chair options, each with various differences, you can choose from:

Alpha – Aluminium
Gold – Plastic
D2 – Aluminium or Plastic – No Headrest
D2A – Aluminium
Dimensions:
XChair X-Basic DVL Task Chair
Overview
This is the first of three options we will bring to you from the superb chair specialist 'X-Chair'. They may not be well known to the masses, but in the office chair space they are well known for producing amazing designs that are also highly configurable.
X-Chair give you the option to basically build a chair to your specification!
This X-Basic model is, as per the name, from their basic range of ergonomic office chairs. Even then it is a sturdy contender, though at the lower end of the weight capacity, coming in with an upper limit of 240lbs.
Primary Features
Dynamic Variable Lumbar support
Armrest that adjust in height, depth, width and angle
Adjustable Headrest (Optional)
Foam Seat
Depth Adjustment (Optional)
Choice of options, you can choose from:

Fabric Protection Plan
Matching Footrest
Dimensions:
XChair – XG-Wing Management Chair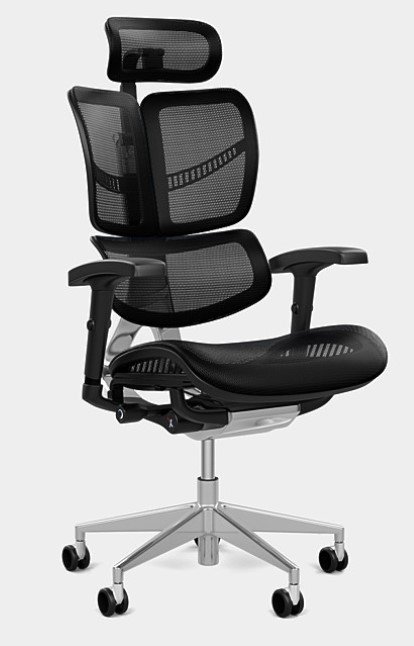 Overview
This is the second of three X-Chair options we will bring to you from the superb chair specialist 'X-Chair'. This model is more configurable than the Basic model above, with some great options you can add.
X-Chair give you an amazing 5 year parts and materials warranty, with an additional 10 years for all non-moving metal components on their chairs!
This XG-Wing model is rated up to 300lbs, comes with an innovative Headrest, a separate Dynamic Lumbar support, and a Split Upper Back Rest.
It is an elegant, yet sturdy chair.
Primary Features
Height adjustable Split-Back support
Dynamic Variable Lumbar support
Armrest that adjust in height, depth, width and angle
Adjustable Headrest
Recline function
Great choice of options, you can choose from:

Different wheels
Armrest upgrade
Fabric Protection Plan
Matching Footrest
Dimensions:
XChair – Leather Exec Chair
Overview
Our final chair from X-Chair features some simply amazing options! Not only does this come in a more traditional leather finish, but it can be configured to your desires even more than the Management chair.
It has additional Lumbar supports that can either be be bought with the chair, or purchased retrospectively and added once in use.
This beauty is for those that wish to mix a classic looking office chair, with a contemporary ergonomic masterpiece; and throw in a bit of luxury.
X-Chair also do an amazing massage chair, please read the review here – where it is compared with other high-end massage chairs.
Primary Features
Height adjustable Split-Back support
Dynamic Variable Lumbar support
Armrest that adjust in height, depth, width and angle
Adjustable Headrest (optional)
Recline function
Great choice of options, you can choose from:

Extended width seat base – from 20.5″ to 22″ (optional)
Seat Memory Foam (optional)
Heat & Massage lumbar option
Heat, Cooling & Massage lumbar option
Color options
Different wheels
Armrest upgrade
Fabric Protection Plan
Matching Footrest
Dimensions:
Nouhaus ErgoPRO Ergonomic Office Chair
Overview
This is one of the larger of the 'Ergo' models from Nouhaus, all of a contemporary and functional design. Nouhaus Ergo chairs are very popular and sell extremely well. We've decided to opt for the ErgoPro model as it gives ergonomic adjustment to the seats depth, whereas the ErgoFlip model does have a slightly larger depth, but it fixed.
That fixed depth is only 0.4″ bigger than the range of the Pro model. For those that may have longer thighs. However, the Pro model does have a greater height adjustment of over an inch. The main additional feature of the Flip model is the facility to 'flip' the armrests out of the way, should you wish.
We've added in a link to the Nouhaus ErgoFlip model here.
Primary Features
Dynamic Variable Lumbar support
Armrest that adjust in height, depth, width and angle
Adjustable Headrest
Super-Lounge Tilt function
Pro Wheels
The larger model from the Ergo range of ergonomic office chairs
Dimensions: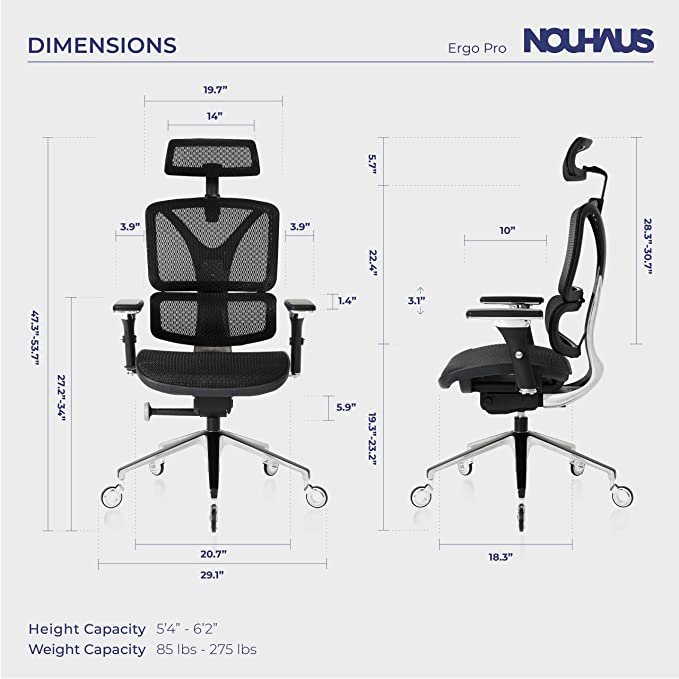 Herman Miller Aeron
Overview
Herman Miller are globally renown chair manufacturers, they are very popular and sell extremely well to large scale businesses as well as private citizens. We have used these chairs on and off for well over a decade.
They are very well made, and due to their popularity, parts are readily available – should a part be required.
They come in three different sizes, A, B & C. These sizes are added below. These chairs are expensive, but boy are they worth it. If you are a serious home worker, and want a chair to fit then look no further! They can be ordered in a wide range of specifications, to suit the user.
On the downside, they do come without a headrest as standard, but they can be purchased separately. Finishing with a plus point, they are now manufactured with recycled plastic.
Primary Features
Lumbar support
Armrest that adjust in height and can pivot
Tilt function
Great options, but at extra cost (See this upgrade pack)
Dimensions:
Aeron Chair – Sizes A, B & C
| | | | |
| --- | --- | --- | --- |
| Chair Size | A | B | C |
| Height | 870–978 mm | 933–1045 mm | 1016–1153 mm |
| Width | 699–744 mm | 719–772 mm | 719–803 mm |
| Depth | 686–699 mm | 699–719 mm | 699–719 mm |
| Seat Height | 366–490 mm | 401–528 mm | 427–579 mm |
| Seat Depth | 406 mm | 432 mm | 470 mm |
| Arm Height | 191–292 mm | 191–292 mm | 191–292 mm |
| Recommended Height | 4'10 – 5'4″ | 5'2″ – 6'6″ | 5'3″ – 6'6″ |
| Recommended Weight | 90 – 150 lbs | 130 – 325 lbs | 350lbs |
To Wrap Up…
There are more ergonomic office chairs, for larger people, on the market than you might be aware of. Our aim was to make you think, if indeed you are larger? And then to consider the aspects of choosing a chair that should be most relevant… with a sprinkling of chairs we think are worth looking at added to the mix.
You'll become aware that most of the larger chair manufacturers – by company size, make their chairs capable of seating most people, the average and the larger. What we did find in researching this article is that a lot of them seem be too big for people that are smaller in stature.
We came across several reviews where the owner claimed they couldn't even place their feet on the floor… maybe we should look at that for our next article?