If you come here and are intending to actually read what's below, congratulations, your 2021 New Year's resolution is either getting rich enough to have a larger place to live for yourself, or make full use of the tiny cubicle you're holed up in – which is usually referred to fancily as studio apartments, or studio flats (for Her Majesty the Queen's servants). Or people, I don't know.
First thing first, before falling down the rabbit hole into Wonderland, you need to understand this: a studio apartment is a small apartment, but not all small apartments are studio apartments. A small apartment can just be a single apartment, a type of low-end living quarter similar to the aforementioned studios.
According to Wikipedia an apartment (in American and Canadian English) or a flat (in British English) is a self-contained housing unit (a type of residential real estate) that occupies only part of a building, correctly, on a single level without a stair. Such a building may be called an apartment building, apartment complex, flat complex, block of flats, tower block, high-rise or, occasionally mansion block (in British English), especially if it consists of many apartments for rent. In Scotland it is called a block of flats or, if it's a traditional sandstone building, a tenement, which has a pejorative connotation elsewhere. Apartments may be owned by an owner/occupier, by leasehold tenure or rented by tenants (two types of housing tenure). Or so Wikipedia said. Some apartments can be as large as spread-out full sized houses; some can be as small as a parking space for Porsche cars. Well, not that small, but you get my point. And those are usually mistaken for studio apartments.
The thing with small apartments is, even if they're as small as the definition itself, there are still walls or some sort of default dividers in the original design between the main rooms such as living room, dining room, bedroom, kitchen and bathroom. In a single apartment however, most of the areas within the room can technically be open to each other, except the sleeping area which is always in a separate room. That's why sometimes single apartments can also be called one-bedroom apartment, as in an apartment that has a single bedroom, which is their special trait.
These types of apartments usually have a full kitchen for tenants to practice their skills of burning down things accidentally, which may or may not be separated from other areas by a counter or some similar built-in things, as a well as a dining area which basically in and of itself is an extension of the living room. There's also usually a separate full bathroom, a thing which studios also have. All in all, a summarized definition of it is that of a small but still highly functional apartment, one that offers it's hosts and their guests greater privacy and control of environment. Due to the size, the similar renting rate and how the furniture are usually decorated, people often mistake it for studio apartments, but studio apartments aren't the same at all.
Studio apartments differ from single apartments in floor plan and size, and the definition of it is as compact as itself: an apartment that is one large room that combines all the areas from living to sleeping into one. Besides the previously mentioned attributes, there are quite a few common traits that studios share with one bedroom dwellings, such as some of them having a similar L-shaped layout that pushes the sleeping area to a narrow end, or a tiny cut out section that almost looks like a separate room if you squint long enough, which makes the whole thing resemble a single apartment.
Despite that, because of the usual all-you-can-eat efficient layouts of studios, they often have less total space than singles, which can result in lower heating and cooling costs, which also make them some of the cheapest apartments you can get. Many studio apartments have their own private bathroom like single apartments do, or sometimes the bathroom is shared with other studios, but aside from that there are no other major rooms.
Since most of everything that is you and yours have to be jam packed, crammed into one very small and compact yet open space, studio apartments present some unique challenges in regards to decorations, space arrangements, where to put what stuffs on display and so forth, to distinguish one area from another and generate a nice flow to your living space allowing you to move smoothly through the studio without bumping into objects or stepping onto Lego pieces and adjust anything you want on the go easier and accordingly.
Finding furniture that fit perfectly into a small space such as that of a studio can be really, really difficult, and then you have to consider the budget as well since… well, you're living in a studio instead of an actual place with all the cool stuffs, hence options are kind of limited.
However, there's a surprisingly great fun and some big mental rewards in all that. To make the tiny cubicle you call home look amazingly spacious takes a lot of effort and creativeness, and if that's done successfully there are three good things that can happen to you: your guests constantly being in awe of your eyes for interior design and tidiness upon walking through the front door, your chance of scoring significantly increasing and an overwhelming overflow of self satisfactory feelings of your own.
Aside from that, overall your guests and you yourself can get the most value out of your now space optimized studio apartment, with maximum occupancy, comfort, feel and aesthetic all in order, in turns reducing the likability of death via claustrophobia. There are tons of possibilities in terms of arranging a studio apartment into a well-organized living and working space, and I, as your favourite home office guru of all time, will guide you through them.
First, it's…
GETTING THE RIGHT FURNITURE FOR YOUR STUDIO
Everything is about the space, and how one moves through it. The smaller the space, the more thoughts one has to put into making all of it a sustainable or at least non-smelly, in-human-living-condition environment with actual pathways (albeit maybe sometimes for small footed people). Having the right furniture that both suit your needs and fit well into your tiny studio apartment is the big first step towards making you – the owner – appear cooler to all the girls you want to land.
There are many things to consider in regards to choosing the right furniture, the right stuff that you want. It depends on a lot of factors really, like the studio itself and how it'ares seen without all the human objects, for example even though the apartments all small, some might have taller ceilings than others, some might be not so squared, some might have less windows, et cetera et cetera, so you really have to take all of it into account. Another important factor is how you want to show off your personality, which I will talk about plenty in a hot second if I don't forget.
First thing guys notice in a girl is her looks, her body and face, not what's inside her as some Hollywood movies elude you to think, because that part's saved for when you want to calculate the probability of a breakup or divorce. The first impression always lies in the aesthetics, and those pieces of aesthetics have to go together with the surroundings as well such as a country girl dressing stereotypical of a country girl to woo cowboys with specific fetishes. Such as a piece of furniture not looking out of place at the perfect studio you plan out in your head.
In terms of looks, one of if not the most important thing to go through first is considering how each furniture go together as well, not just how it will fit with your apartment. Make it so that when guests come in, they can convey your entire living space in one short and immediate glance. The first impression. This can be made successful by getting all your stuffs into one cohesive colour scheme that will create a kind of harmony that creeps itself into your guests' brains consciousness and have them suddenly wake up from their deep sleep into the middle of spouting out a real genuine compliment about how neat and how clean your man cave is. Or something similar to that. Usually I would go with a pale-bright colour scheme, like leaf colours or woodland palettes, or pure white, but it really depends on your tastes. As long as all the colours are in perfect harmony and don't result in dressing your apartment up to look like a slaughterhouse it's fine by me.
STYLES AND IMPLEMENTATIONS
Those two also have to be taken into consideration, and the more synchronized your stuffs are in terms of style and usage the better the personality you show to the world (which is your guests). This is the heart of the girl, or some might say the soul. It all really depends on your taste of course, for example if you want a cyberpunk, modern-art kind of visual to your studio you might want to try out a modern but compact sit-stand workstation that looks clean and actually is stable, or a floating wall desk which saves space and is brightly futuristic, to go with an adjustable ergonomic task chair that is both slim and a lifesaver to your back, neck or whatever pain troubles that usually are givens in desk-bound jobs. There are lots of lamp designs that satisfy the fetishes of futurists as well, and still serve it's purposes well. For sofas and mattresses you might want to try customizable ones they're making on the market that can be folded up and put away when you're done with the flirting, better with squared edges instead of rounded to suit the intended style. Lots of possibilities here.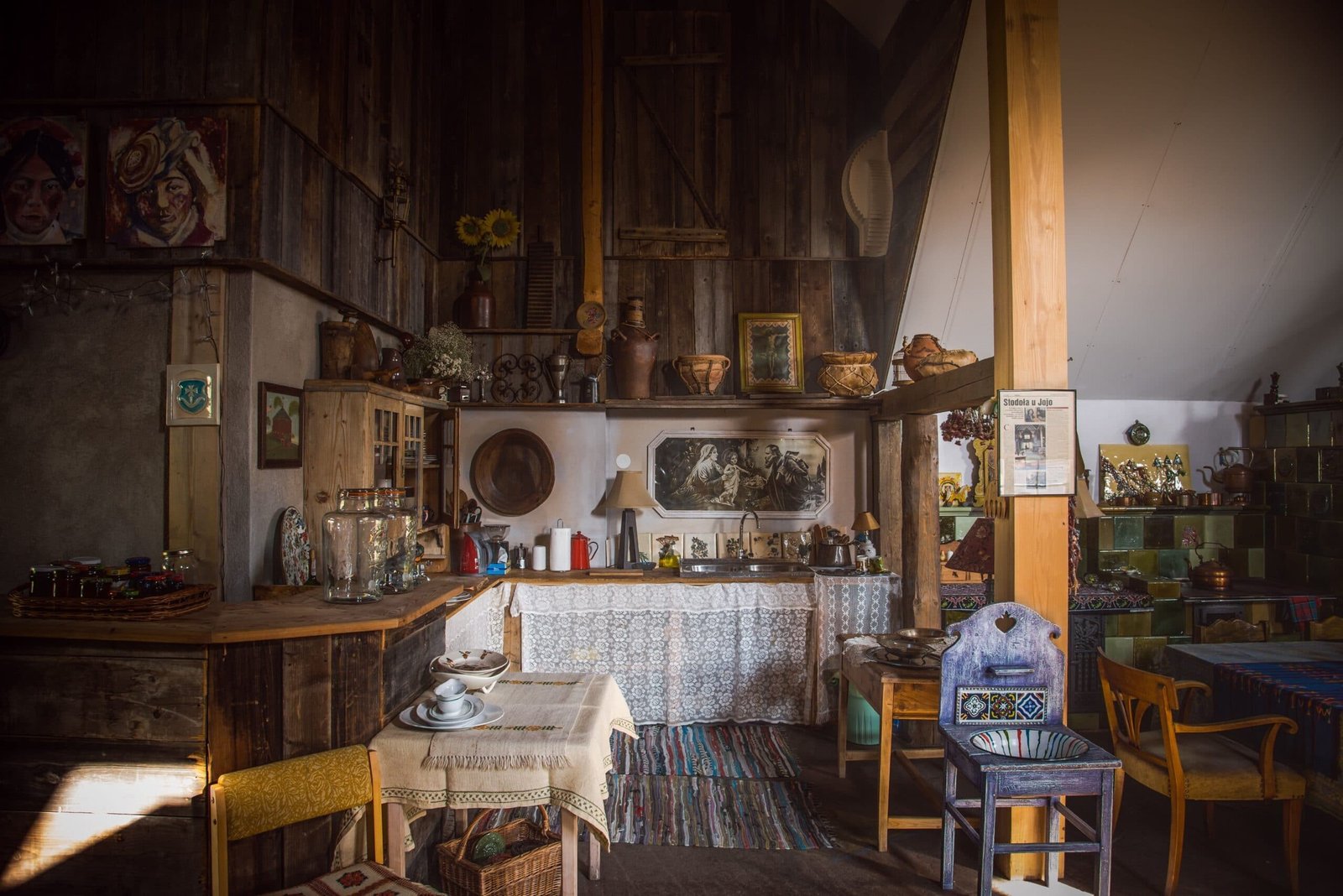 If you're not a fan of Blade Runner and instead of Kingdom of Heaven, just sport a mid-century modern look to your studio instead, and choose your furniture accordingly. This is easier since there are a lot of this stuff on sale and readily available, as the mid-century is not that far away and people can design based on actual stuffs that existed, plus even if you only get some plain looking normal wooden accessories they can get medieval-esque in the blink of an eye with some basic pain job or just simple top decorations.
But, the tricky part here is, you have to take into account how they will fit into your space as well, how useful they are, so you should get things that can be easily folded up, down, or highly adjustable not to mention stable and solid. Some might not have heard of this, but my favourite for stationeries and storages are those bookcase staircases, stair drawers (usually come with adjustable bunk beds) or things in the forms of stairs that are multi-purpose and neat. For desks, there are a lot of wooden ones on the market that are extremely convertible and adjustable, in fact they are the trends right now, wanted in larger apartments or even family houses. Such as this convertible sofa/bunk bed below. Kids will love it, but I don't have kids so judge for yourself.
I will probably get into details about this more with specific recommendations in a future article since it's a very crucial and probably necessarily long point with lots of potential but, basically, choose furniture that possess both styles and substances. Pick your starter packs.
CONSIDER THE SURROUNDINGS
Like I previously said, even though they're all studios, all really small but open living space, any of them is quite different from each other in some ways, and choosing the right furniture to accommodate the little, clandestine but crucial differences is as hard as spotting tells between fake and real paintings. This aspect of the guide is quite in close relation to the thing that's referred to as 'visual hacks', which is quite a common combo of words that gets brought up whenever one talk about making small space appear larger.
The surroundings here are everything that is your studio, painted yet blank. There are 2 pretty obvious main points of discussion for this: Walls and Floor. But I will discuss in details when it concerns furniture accommodation.
There are many possibilities regarding walls. Most people like to hang paintings on their studio walls, because it's the easiest way to show people how artsy and cool you are. I mean it's not wrong, girls dig it. But people choose wrong paintings to hang all the time, that's the main problem.
In a studio, there are 4 walls with maybe some extras in your most-of-the-time-private bathroom but don't count on it. Walls are really important in a studio apartment, besides serving as a not-your-business monuments of civilization, they are especially great because they provide another shortcut to implementing your styles and swags with ease without taking up any floor space. Studio owners generally do know that the walls give away massive benefits, but they don't go further than that. They don't really consider the other aspects.
Walls can be in different sizes, depending on the height of the ceiling and purpose of the wall. Having taken that into account, we go back to the styles and implementations aspects again. If you have a really low ceiling chances are you might need wall art that can be hung horizontally instead of vertically, although you should get those anyway no matter the condition. When you hang something horizontally, it will leave an optical illusion that your walls are larger than they originally seem. Since lots of horizontal art do take up more space than vertical (despite appearing to take less space, funny how that works), you usually only need one big piece of wall art to do the trick. The more minimal and simplistic the art is, and with a matching colour scheme to that of your walls', the better it fits your studios, as in turns it creates a clean, furnished looks and provides additional optimal illusions in terms of making your walls seem larger.
If you don't like paintings or are not an art guy, there are substitutes in mirrors. Intelligently and strategically placing mirrors around your rooms can work wonder, and it's no different if you hang them on your studio walls. The mirrored reflection is a trick in and of itself, they can lure you into thinking the space being bigger than it really is. The brighter your studio is, the more effective this type of trick work – especially if you have a window the reflections the mirror receive will create the illusion of an additional window as it bounce the natural light from outside to the surrounding space that is the whole room. Like with wall art, either have a lot of small mirrors packed besides each other or one big, full-sized one. Mirrors usually draw attention and this will create the feeling of the bigger space that you seek.
For other stuffs that can be displayed on the walls such as hanging desks and bookshelves, there are only really 3 things you need about them: sleek, customizable and with colours that support the walls. A lot of 'floating' things like floating desks, shelves, et cetera on the market are designed to make perfect suits to studios or small apartments so they will fit most of the requirements unless your walls' colour scheme leans more towards the darker side, in which case you should re-paint your walls or get a new bright and minimalistic wallpaper instead of looking for darker alternates.
It's established at this point that studios don't have natural dividers in walls between rooms or something to that extent because there are basically no rooms. That might suck, but it gives you the need to be creative. A wall doesn't have to be architecturally built-in to provide separations between functional quarters to your likings, in fact it can be extremely simple things like merely a curtain that hangs from the ceiling between a bed and the sofas, in short a visual divider between a bedroom and living room. Curtains are also a symbol for privacy and delicacy, so they're more useful to your living space struggles than than previously.
Depends on the maximum number of guests you want your studio floor to contain, the number of dividers also can be varied, sometimes owners don't really separate the kitchen from the living room to save more space, so that the guests can dine and the host can cook for them at the same place, but for better organizations things should stop at that as if every 'room' is connected openly to each other there will inevitably be a mess.
Subdivision is a thing when it's a group of people with lots of different hobbies, so one might need to subdivide another spare room for video gaming or pillow fights or something. Personally I think open-backed shelves (or storage shelves in general) are great tools for dividing spaces, they serve as another type of subtle divider, a placeholder to declutter stuffs you don't know where to put or when you might need and if you have good eyes, arrange the things you want on there so that it became an important piece of decor, looking good from all angles, especially from both 'rooms's perspectives. Generally sectioning off areas with the full usage of visual dividers you can create the illusion of a larger and more compartmentalized space to your studio.
For studios with non- squared shapes, either rectangular or L-shaped, one might need to be more considerate of the dividers they want to use and where they want to put it. Getting an entire workstation and push it up a corner along with an ergonomic task chair to make up a workplace, or using different rugs for each area you want to exist to define them, making use of different levels of lights and different kinds of lamps for each area to create a unique feel… There are tons of work regarding this aspect of getting and arranging your furniture and dividing your areas accordingly, but it's also fun since the possibilities are almost endless and thus you can bump into a lot of good combinations with a bit of creativity.
I'm tired and god awful at ending articles on some kind of notes. Watch this… space for part 2 of the series.