Introduction
The development of modern life has led to the necessity of people becoming more sedentary, resulting in an increased number of problems with their backs. A lot of research has been done on this topic by various institutions all over the world.
It was concluded that regular exercise is one of the best ways to prevent back pain, but what if you cannot do some exercises because of pain? Or, you are left in pain after exercising? The answer is massage chairs. There's a lot of choice out there, so we've put together this ultimate guide, which showcases our top 5 selections based on features and specification.
Massage chairs are becoming more popular due to their safety, portability and effectiveness. People prefer them over standard massages, as they are able to soothe all your muscles after a work day or just give you some relaxation before going to bed.
Having a massage chair also gives you the means to massage your own back, without having to either go to a masseuse, or have one come to you. Both can be expensive, the table below illustrates the cost per one hour session.
| | |
| --- | --- |
| Cost Tier | Price per Session |
| Typical cost range | $85-$125 per session |
| Low-end cost range | $65-$75 per session |
| High-end cost range | $145-$180 per session |
| National average cost | $100 per session |
Table: Massage prices
The use of massage chairs for home is becoming increasingly common as they are more readily available, easy to operate and easy to maintain. Their modern compact design ensures they do not take up a lot of space.
Moreover, their price has become more affordable for people from different social classes, which is why it is possible to find massage chairs in your neaTable: Massagerest furniture store or order them on the Internet.
If you do suffer with a chronic back condition, it goes without saying, always consult with your doctor prior to use.
This article will discuss some frequently asked questions, before moving onto the best massage chairs you can buy.
Massage Chair FAQs
What conditions will a massage chair help with?
While all massage chairs offer benefits for back pain; some models offer specific added benefits to help treat other conditions. If you are concerned about a particular condition, make sure to choose a model that offers the features you need.
For example, if you suffer from lumbar pain, purchase a unit that comes with lumbar support. If you are looking to target your glutes, consider a model with an option for Zero Gravity.
Massage chairs will not cure any condition. However, they can help treat some conditions and restore temporary function to the area that is in pain.
The best massage chairs for back pain will target the lumbar spine, glutes, and upper back.
Massage chairs also offer added benefits to help induce sleep and promote general well-being. For example, some massage chairs come equipped with built in speakers that allow you to choose the type of music you will hear during your massage. Some chairs even have aromatherapy, to help ease muscle tension and reduce stress.
How do Massage chairs work?
Massage chairs use air-bags, rollers or the combination of both to apply different types of pressure to your back. This will have a therapeutic effect on your muscles, resulting in their relaxation as well as improving circulation, making a positive influence on your state of health by reducing back pain, neck pain, or shoulder pain.
What types of massage chairs are available?
The most common types of massage chairs include shiatsu, rolling, kneading, and zero gravity.
Whole-body units employ both shiatsu and kneading in their programs.
Shiatsu chairs typically apply pressure to tense muscles while kneading is more gentle; using either intensity depending on your preference (and how sore you are).
Rolling massage chairs combine shiatsu and kneading to work out your entire body.
Zero gravity chairs typically use a combination of the rolling and shiatsu motions. However, they also put you in a weightless state, allowing for a more intense massage with less effort from the masseuse.
What style of chair will benefit me most?
The answer to this will depend on your personal preferences. Some people prefer a lighter touch, while others need a harder massage; the type of chair you choose depends entirely on what you like.
When choosing between styles, consider which you would enjoy most (kneading or shiatsu?). If you are only concerned about getting the lowest price but still want a decent massage, consider a model that offers both shiatsu and kneading.
How many programs should my chair come with?
To get the most out of your massage chair, make sure it comes with at least four different programs (options). The more options your unit has, the better it will be able to meet your needs.
How often should you use your massage chair?
You can use your massage chair on a daily or weekly basis to relieve stress and tension building in your back. Massage chairs not only increase blood circulation but also help relieve pain and stiffness throughout the body after extended periods of exercise or even sitting.
How much does a massage chair cost?
Massaging chairs can vary greatly, they generally range between $300 and $14,000+.
That's quite a range!
A top quality massage chair will obviously be at the higher end of that range, with an entry range chair will be priced from $300 onwards – these may be a nice item to have… to relax in, but will be limited in comparison with the mid to high end offerings.
They are designed more as a leisure item, than something which has all the functionality to alleviate back issues. If you are looking for a mid-range massaging chair, a decent quality chair will cost nearer $2000-$4000.
If you want more options and features, a higher-end massage chair will cost from $7000-$14,000+.
The more expensive massage chairs will provide additional features such as heat, vibration, and the capability to control them all with a remote control delivering a whole range of massaging programs.
Be sure to think about what you prioritize in a massage chair before making your purchase.
What is the best type of massage chair?
A model that has ergonomic adjustment, Zero-Gravity, 3D-4D, Body Scanning, a full range of massage programs, and thermal features is considered to be a 'top of the market' massage chair.
Most chairs are in-floor models, which provide a more natural and undisturbed gliding motion, as it moves with your body instead of sliding around on wheels like an upholstered recliner. The majority of models that are designed specifically for relieving back pain also have in-floor gliding.
We believe the chairs in our review are the best that are on the market.
What is the longest warranty for a massage chair?
Most brands offer a one year warranty on parts and 90 days on labor, but several leading manufacturers, such as Human Touch, offer an amazing 5 year warranty. It is worth checking on the manufacturers website what their latest warranty protocols are, as they can be tiered with Parts, Servicing & Labor, or have their terms changed over time.
Our top 5 Massage Chairs
1. X77 Massage Chair from XChair
This contemporary looking chair is designed for users that are between 5'0″ to 6'5″ in height, and up to 265lb in weight. To absolutely spoil the lucky owner of this amazing chair, it is blessed with a cool remote control offering over 10 programs which go from full body recovery to relaxation, stretch massages as well being able to target certain areas. Such as as the Back, Neck & Shoulders or Glutes.
A 'Full-Body Air Massage' feature is also available, as well as Infrared Heat delivery via its heated rollers.
The 4D massage mechanism in the X77 Massage Chair is intended to move your spine, calm your mind, and assist you in recovering from exercise. 4D kneads, taps, rolls (fast or slow) and presses. It referred to as an Intelligent 4D massage mechanism.
Its inbuilt foot rollers, which are carefully programmed and molded to avoid injuring your feet's soles, will stimulate, roll, and squeeze tired or aching feet to increase blood flow, exercise muscles, and relieve your entire foot.
The chair has a unique 'Acupressure Point Locator Function'. Prior to each massage, the chair scans your back and automatically customizes each massage to you before each treatment. The X77 Massage provides optimum comfort, relief, and recuperation by measuring your torso and tailoring massage techniques to your physique.
The chair features a reclining angle range of between 80 to 160 degrees, including a Zero Gravity Recline position. It is also available in differing fabric and color options.
Dimensions
Height 30 – 48" (76 – 122 cm)
Depth: 59 – 80" (150 – 203cm)
Seat Width/Depth: 17" W / 18" D
Warranty
3 year Limited warranty
5 year Extended warranty (for an additional fee)
Additional Features
USB charge Port
Chromotherapy screen (located on the remote control)
Space saving 'Wall Hugging' design
What we like about this chair?
Neat, modern-looking designs in 3 looks
Space saving design
A great all-rounder for its price in the high-end massage chair bracket
2. Luraco iRobotics 7 PLUS Medical Chair
The Luraco i7 Plus iRobotics 3D Medical Massage Chair with Zero Gravity has a perfect rating on Amazon.com. This chair is designed for users that are between 4'7″ to 6'7″ in height, and up to 300lb in weight.
The Luraco i7 Plus is recognized by the US FDA as a medical device!
Featuring these massage programs – Quick, Health, Sport, Soft, Night, TV Mode, Tapping & Stretch. Though several combinations can be set to give a custom massage as the user desires – Head & Shoulder, Lower Back, Upper Back, Lower Back, etc.
The S-Track massaging unit has three dimensions of rolling action, as it moves through the Z, X, and Y axes. This device, on the other hand, employs something unique. And many manufacturers are starting to use the term 4D.
The system utilizes a combination of 3D rollers and airbags to deliver the massage effect to the user, the rollers are given a boost by allowing them to move 3 inches away from their track – giving a more thorough massage, which can be beneficial to aching muscles. When set to its maximum position, it is akin to getting a deep-tissue massage.
This model's NASA-inspired technology enhances the experience, by raising the users knees slightly above the chest which reclines you into a posture that utilizes gravity – it aids in pushing your body weight against the seat's rollers, providing a more powerful massage as a result.
This model features a highly rated and comfortable S-Track type frame, allowing its built-in quad rollers to fit your spine's natural curve.
It comes with 3D Body Scanning technology, enabling it to scan your back and alter the rollers to fit your physique. You also have the option of manually changing some things for yourself. These two features, when combined, give you a bespoke and personalized experience.
Dimensions
Height 47" (119 cm)
Width 38" (96cm)
Dimensions Reclined (L" x W" x H"): 81″ X 38″ X 47″ 
Warranty
1 year warranty
Additional Features
Bluetooth Music System
User friendly touch screen remote control
What we like about this chair?
The chair is 'Best of breed' for those with back complaints
A trusted US manufacturer
3. Infinity Celebrity 3D/4D Massage Chair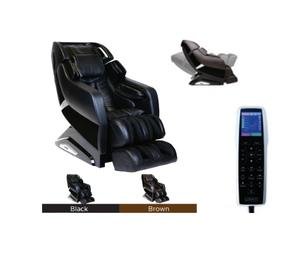 With a price of about $8,000 dollars, is in the expensive range. This massage chair has 3D/4D massage which mimics a deep tissue massage of human hands, and super long 49" L-track reaches from your neck to your glutes.
This chair has scope to best suit users between the heights of 4'6″ to 6'4″.
It does have a great range of functionality – It comes equipped with Zero Gravity reclining, triple roller 'Total Sole Reflexology™' foot massage that give you a medium profile massage while you are sitting down.
For those with back complaints, the chair also comes with Spinal correction & decompression stretch system and lumbar heating elements that allow it to mimic the feeling of a real massage therapist.
The massage you get from this machine is one of the best rated chair massages out there. And, for those just wishing to relax, it features a relaxing metronome-based rocking motion.
Dimensions
Height 37" (94 cm)
Width 34" (86cm)
Length 74″ (188 cm)
Dimensions Reclined (L" x W" x H"): 74″ X 34″ X 37″ 
Warranty
5 year Limited warranty
Additional Features
Bluetooth Music System
Touch screen remote control
Connect your smartphone via Apple or Android phone apps
What we like about this chair?
Another modern-looking design
Great rocking chair (metronome) function
Excellent warranty
4. Kahuna Massage Chair – The King's Elite Massage Chair EM-8500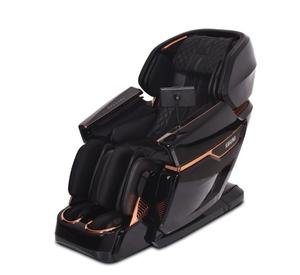 Ergonomically designed with the latest technological innovations that mimic real human hands; the Kahuna Massage Chair – The King's Elite Massage Chair is definitely one of the best massage chairs for back pain.
The Kahuna Massage Chair – The King's Elite Massage Chair is a miracle of comfort and relaxation. This amazing massage device brings health benefits to the user – from relieving fatigue, stress levels, chronic pain…to improving blood circulation and many more.
It is designed for users between 5'2″ to 6'2″ in height, and has a recommended weight restriction of 250lbs.
The chair features a 4D massage system which can deliver a personalized massage with several levels of depth, speed and width control. It has a whopping 24 automated massage programs that are split between its Classic, Specialty & Elite Target lifestyle choices.
Body scanning is available automatically, with Zero Gravity also being on offer, via 3 stages… this beast really is fit for a king!
It has a built in touch screen remote controller that is on a convenient mount, so it can be viewed without needing to be handled.
Dimensions
Height 59" (150 cm)
Depth: 46" (117cm)
Width: 34″ – (86 cm)
Warranty
2 years warranty – must be registered within a month of purchase
Additional Features
Wall space saving – needs only 3″
Built in arm rest controller
Bluetooth speakers
What we like about this chair?
Fantastic range of programs
hands-free controller viewing
5. Human Touch Super Novo Massage Chair
The Human Touch Super Novo Massage Chair is a truly feature rich and smart chair! This contemporary example of massaging luxury has been developed to utilize Amazons Alexa. You therefore have, at your service, a chair that is a virtual masseuse or virtual therapist, delivering what you desire via voice command. This chair offers 38 distinct programs.
A good percentage of NBA stars will be able to fit comfortably in the chair as it has a height range of 5'0″ to 6'9″ and is able to accommodate those that weigh up to 285lbs.
Like some of the other in our top 5 list, this chair is very well designed, and has the biggest range of options, from the standard black, through to Gray, Cream, Espresso and Saddle. It only requires 2″ of clearance at the rear.
It has a Unibody Track that incorporates an S & L Track 'multi-dimensional' design that can extend massage coverage from the shoulders, down the spine and to the thighs. A full body stretch function and dual lumbar pads will be ideal to aid those that suffer from back pain.
Dimensions
Height 32″ – 46" (81 – 117 cm)
Length: 63" – 74″ (160 – 188 cm)
Width: 34″ – (86 cm)
Warranty
5 Year Limited Warranty
5 Years Structural
3 Years Parts
1 Year In-Home Service
Additional Features
Built in USB port
Magnetic dock (holder) for its remote control
Built in arm rest controller
Battery backup – can reposition the chair in case of power outage
What we like about this chair?
Neat, modern-looking designs in 3 looks
Space saving design
A great all-rounder for its price in the high-end massage chair bracket
Conclusion
We hope we've brought you some great options to think about, as well as providing some baseline information on the products. You may find chairs are available for a lot less, but there's a saying… 'You get what you pay for'. The chairs we've selected offer market leading functions and in-depth warranties & support; whereas lesser known manufacturers might be cheaper, but will most likely be sub-standard quality. Then the risk is you could have spent hundreds of dollars on something that either fails, or just isn't as good a chair as those you have seen here.
The embedded videos we have added should also help to give you a sense of scale, and more of an idea of each chairs quality and finish.
All that's left is to wish you luck with your research into purchasing one of these beauties.