‍
If you're furnishing your home office, finding the perfect chair is paramount, not only does it need to be comfortable for long hours of work, but it also needs to fit seamlessly into the layout and design of your Home Office. Popular, but often less well known options are white ergonomic office chairs, with a sleek and modern look, they can elevate the aesthetics of any workspace. If you happen to be looking for an ergonomic office chair in white, with advanced ergonomic features or a simple yet stylish design… we've got what you need.
We've included a table at the top of the article listing a good cross section of our favorite ones, so there are options available for every budget. If you want to go into more depth then we have a write-up for each of them individually, further below…
Ergonomic Office Chair in White – At a Glance
1. The Eurotech Seating iOO
The Eurotech Seating iOO is a top contender, it features a sleek black and white combination which adds a touch of sophistication to any office space. Its ergonomic with an elegant design and build quality make it a cool choice among amateurs and professionals alike.
Comfort
The Eurotech Seating iOO Chair offers remarkable comfort, with several users praising its supportive design making it ideal for long hours of use – it encourages better posture and minimizes slouching. The chair has customizable adjustments to ensure it will cater to an individuals comfort preferences.
Ergonomic Features
This chair has most ergonomic features you would need, with numerous adjustments for those seeking an ergonomic solution for either their home office or gaming setup. Though, if you suffer from neck complaints – it does not come with a Headrest
Build Quality
Despite some assembly challenges mentioned by a few users, the Eurotech iOO Chair ultimately impresses with its build quality – It's sturdy, and the materials used are deemed to be of good quality. The assembly process, though demanding, is rewarded with a well-constructed chair. Users appreciate the chair's design, and while there might be minor concerns about armrest play, it doesn't significantly detract from the overall functionality.
Aesthetics
The chair scores well in terms of aesthetics, it's visually appealing and like most ergonomic office chairs in white, has a modern look. The chairs back and base come in black, so it's not a 'completely white' option!
In summary, the Eurotech Seating iOO is a really good chair, and delivers on its promise of comfort, ergonomic features, build quality, and aesthetics; while offering excellent support and adjustability for long hours of use. The negatives are some minor issues with armrest play and occasional difficulties in assembly. And, sadly, no headrest as standard.
Those aside, this chair is a worthy investment.
The Oline ErgoPro Ergonomic Office Chair:
For those seeking the best white ergonomic office chair with a focus on ergonomics, this 'Big-bang-for-your-Buck' option from Oline gives you great ergonomic features, in an appealing white flavor – to suit any ergo-white enthusiast!
Comfort
The Oline ErgoPro Office Chair stands out for its exceptional comfort. Users report plush padding and high-quality upholstery that offer excellent support for extended periods of sitting. The adjustable lumbar support and headrest adapt for a personalized and comfortable sitting experience. The chair's ergonomic design promotes a proper sitting posture, reducing fatigue and discomfort during long work or gaming sessions.
Ergonomic Features
Considering its price, this chair really excels in terms of ergonomics by offering the full range of adjustments you'd expect in a more expensive chair. These include: seat height, armrests, tilt mechanism, headrest, and lumbar support, with users finding them easy to configure, allowing them to readily adjust the chair to their specific needs.
Build Quality
The build quality of the Oline ErgoPro Office Chair is impressive, with customers noting its solid and durable construction, which ensures long-lasting performance even with regular daily use. The chair's sturdy frame and reliable mechanisms instil confidence in its stability and longevity. Notably, the chair comes with 3″ diameter blade wheels that roll smoothly over carpeted floors, eliminating the need for plastic floor sheets.
Aesthetics
In terms of aesthetics, the chair offers a choice of colors, which is appreciated as it allows users to match their office decor. Its mesh design is not only visually appealing but also breathable, ensuring comfort during hot weather. While the chair's appearance may not be the main requirement for some, it strikes a balance between functionality and style.
In summary, the Oline ErgoPro Ergonomic Office Chair receives praise for its comfort, extensive ergonomic features, solid build quality, and satisfactory aesthetics. Users find it to be a valuable investment, significantly enhancing their sitting experience and productivity.
The SIHOO Doro C300 Ergonomic Office Chair
Another great option for a budget purchase is this offering from SIHOO. With great features and aesthetics it won't look out of place in your Home Office, home gaming setup or in the command center of the Evil Empire!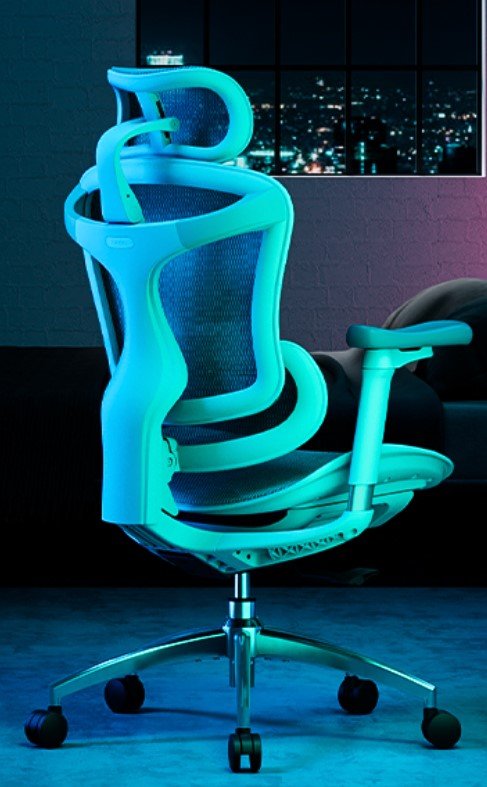 Comfort
The SIHOO Doro C300 Ergonomic Office Chair consistently receives high praise for its comfort level. With positive user feedback after extensive use – even during extended work sessions, the chair remains comfortable, preventing discomfort.
Ergonomic Features
This chair stands out for its excellent ergonomic features as it offers the expected SIHOO quality range of adjustments, including height, tilt, armrests, and even lumbar support that moves with you as you shift in the chair. Users have found the armrests particularly impressive for their adjustability. However, some taller individuals have mentioned slight discomfort when sitting up for extended periods.
Build Quality
The SIHOO Doro C300 is recognized for its top-notch build quality, manufactured with high-quality materials, this chair impresses users with its durability and sturdiness. The metal base for the wheels adds to its longevity, making it a wise investment. Additionally, the chair's ease of assembly, thanks to clear instructions and included tools, underscores its solid construction.
Aesthetics
While the chair's design is more functional than flashy, fans of this chair appreciate its professional appearance, making it a suitable addition to any Home Office workspace. The contemporary mesh backrest adds a touch of breathability and modernity to the chair's aesthetic. However, a minor issue mentioned by one user is that the packaging does not indicate the chair's color, which led to them receiving the wrong color chair.
In summary, the SIHOO Doro C300 Ergonomic Office Chair will provide the comfort, ergonomic features, build quality, and aesthetics you deisre. It provides exceptional lumbar support, breathability, and adjustability, making it a noteworthy choice for those seeking a white, comfortable and durable office chair.
The Winrise Office Chair Ergonomic Desk Chair
This option from Winrise gives you a white finish, but with a choice of Grey, Blue or Black upholstery, with the latter marginally cheaper. That said, this is great value for a chair with a modest price for its ergonomic functions – it even come with a coat hanger!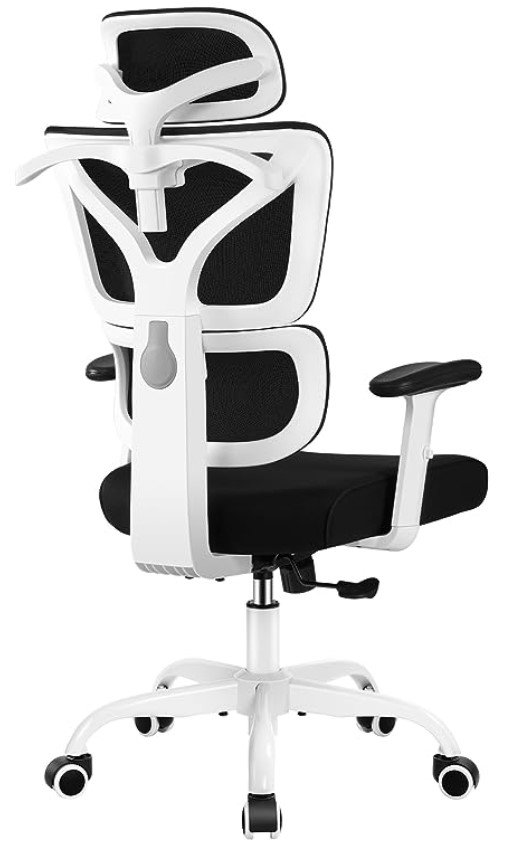 Comfort
The Winrise Office Chair excels in comfort with reviewers praising its plush yet firm cushioning. It also offers great support for the back and waist, promoting a comfortable seated posture. The mesh material is breathable and supportive, reducing the risk of back and neck issues even during extended use.
Ergonomic Features
This budget chair scores really well in terms of ergonomic features you'd expect to have at your disposal – it provides adjustable options for height, tilt, headrest, and armrests, allowing users to customize it to their needs. The mesh material also provides strong support.
Build Quality
The build quality of the Winrise Office Chair is impressive, as per the reviews. Users have noted that the chair is solid, firm, and stable, with no noise issues. The chair is made of durable mesh material, ensuring long-term use, given it has a user weight limit of 300 lbs!
Additionally, the assembly process is said to be straightforward, with all tools included, making it easy to put together.
Aesthetics
While aesthetics may not be the primary focus for a budget office chair, the Winrise Chair is given positive comments regarding its appearance. It has a simple uncluttered design, making it a suitable addition to various office or gaming setups. The chair comes in different colors, allowing users to match it with their desk or room decor.
In summary, the Winrise Office Chair Ergonomic Desk Chair stands out for its comfort, ergonomic features, solid build quality, and pleasing looks – for a low price.
The Humanscale Freedom Desk Chair with Headrest
If you're looking for a premium white ergonomic office chair with a touch of sophistication, the 'high-end' brand Humanscale deliver! This is the Freedom with Headrest model. This chair features a white seat, back, and headrest, paired with a black frame and base for a stylish contrast. The high-quality 'white Lotus' upholstery adds a luxurious feel to the chair.
While the white and black combination is the highlight of this chair, it is also available in other color options to suit different design preferences.
Comfort
The Humanscale Freedom Office Desk Chair with Headrest is an absolute triumph when it comes to comfort. It's like sitting on a cloud that supports your entire body. The headrest is comfortable, cradling your head and neck in perfect alignment, whilst the chair's auto-recline feature ensures that your body effortlessly finds its optimal position.
The seat and backrest are exceptionally cushioned, and the mesh material promotes excellent airflow, keeping you cool and comfortable throughout the day. This really is a chair designed for those who expect market leading ergonomic support and comfort; and are prepared to pay for it.
Ergonomic Features
When it comes to ergonomics, the Humanscale Freedom Desk Chair sets the gold standard. Its dynamic recline mechanism provides just the right amount of support, adapting to your body's movements seamlessly. The headrest adjusts easily, allowing you to find the ideal height and angle to support your neck and shoulders.
As you'd expect, the armrests are height and width adjustable, ensuring that your arms and wrists maintain a comfortable position at your desk. The lumbar support is outstanding, providing vital lower back support that's essential for long hours at the desk.
Build Quality
Humanscale's commitment to quality is evident in every aspect of the Freedom Desk Chair. The chair is built to last, with robust materials and meticulous craftsmanship. The aluminum frame is not only durable but also lightweight, making it easy for you to move positions.
It's mechanism operate smoothly and quietly, a testament to its engineering excellence. The fabric is not only comfortable but also highly durable, designed to withstand years of use without showing signs of wear.
Aesthetics
Beauty meets function with this chair – its minimalist design is a visual delight, seamlessly blending into any office environment. The chair's simple lines and elegant profile make it a classy addition to any workspace.
It will be a statement piece that would elevate the aesthetics of any Home Office!
In summary, the Humanscale Freedom Office Desk Chair with Headrest is a masterpiece of comfort, ergonomics, build quality, and aesthetics. This chair is an investment that will pay off for years to come – It's a chair that will look after your body.
Make no mistake, If you're looking for the best in office seating, and have the budget then look no further than this exceptional chair. It's a throne fit for the modern professional.
To Wrap Up…
Most ergonomic office chairs available on the market are primarily black in color, but we hope to have demonstrated there are some great options available in white.
Any of these examples we have provided will enhance their environment, so if want an ergonomic office chair in white, it's now just a question of what level of ergonomic sophistication and quality you opt for?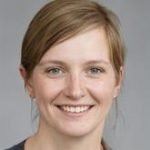 Amelia & Theo – Co-owners of ThinkHomeOffice.com
We have professional backgrounds in Software Testing and Business Analysis, both with extensive experience of working for commercial enterprises and as a freelancers. We toggle between working from corporate premises and our own home offices. We have a passion for home working, and for using equipment that is ergonomically functional, well designed and elegant.